---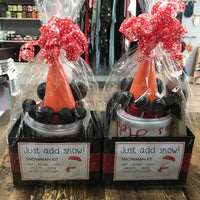 This fun kit has the items to accessorize your own snowman! Kit contains a hat, scarf, nose, eyes, mouth and 4 hot chocolate packs to help warm you up! 
The bonus is that it comes already wrapped!
A great gift to give to a family with children, or really fun adults!
Scarf colours vary.